Classes & Events
Upcoming Events and Classes…
Holiday Patio Planter Workshop
Add some dazzle to your front porch this holiday season! We will provide the greens, bows, twigs, and glitter you will need to create a one-of-a-kind patio planter! Bring your creativity and we will
clean up the mess! This class is held indoors at our nursery.  If you have gardening gloves, we do recommend bringing them otherwise we will provide disposable gloves for those who need them.  Workshop is approximately 1 hour long
Option 1: Wednesday, Nov. 23 2:00 – 3:00 p.m. OR 4:00 – 5:00 p.m.
Option 2: Friday, Nov. 25 11:00 a.m. – 12:00 Noon
Option 3: Saturday, Nov. 26 10:30 – 11:30 a.m. OR 12:30 – 1:30 p.m.
Option 4: Friday, Dec. 2 4:45 – 5:45 p.m.
Wendland Nursery, W172 N10415 Division Road
$37.00(per option)
Please be registered one week before program date.  To register please contact Germantown or Menomonee Falls Park & Rec. Dept. or call our office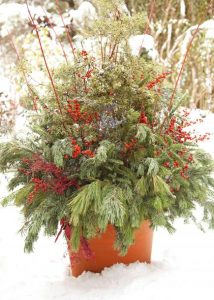 Holiday Gnome Workshop
Add some whimsical fun to your porch with a holiday gnome!  If you have a group of 6 or more, please call to set a time for your own private workshop.   This class is held indoors at our nursery.  If you have gardening gloves, we do recommend bringing them otherwise we will provide disposable gloves for those who need them.  Workshop is approximately 1-1.5 hours long $40.00 per person
Dates available from 11/21/22-12/9/22, inquire today to reserve your time slot!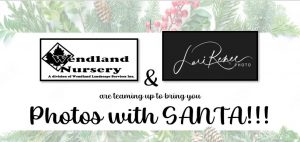 LoriRenee Photography, LLC will be at Wendland Nursery in Germantown on
Sunday, December 11th from 2:00pm – 4:00pm –
Please note that due to illness this is an updated date and the December 3rd event has been cancelled. 
for 10-minute outdoor mini sessions with SANTA!
Capture the magical moments with Santa for only $15 & receive your edited gallery with 3 to 5 high resolution digital photos available for download.
*With an option to print from the gallery if you choose, pricing varies depending on print size (Mrs. Claus will be here too!)
Details:
Event will only be held as long as weather permits as it is outdoors at the following location:
Wendland Nursery W172N10415 Division Road, Germantown WI 53022 (intersection of Division Rd & Donges Bay Rd)
Site will be set up with Holiday Lighting & décor!
Pre-registering for your 10-minute spot is recommended, please call Wendland Nursery at 262-251-9678 to reserve today.  Walk ins will be accepted if an open space is available or a no show or cancellation for that time window has occurred.
Payment can be made on day of event with cash, check or credit card.  Please note a 3.5% service fee is applied to all credit card transactions 
Galleries will be edited and emailed from Lori with in approximately 3 days. Photos will NOT be printed on site.  Reindeer are also a separate event and will not be here on this date.
Have a Girl Scout Group or interested in a private class?  Give us a call and we can let you know options available!